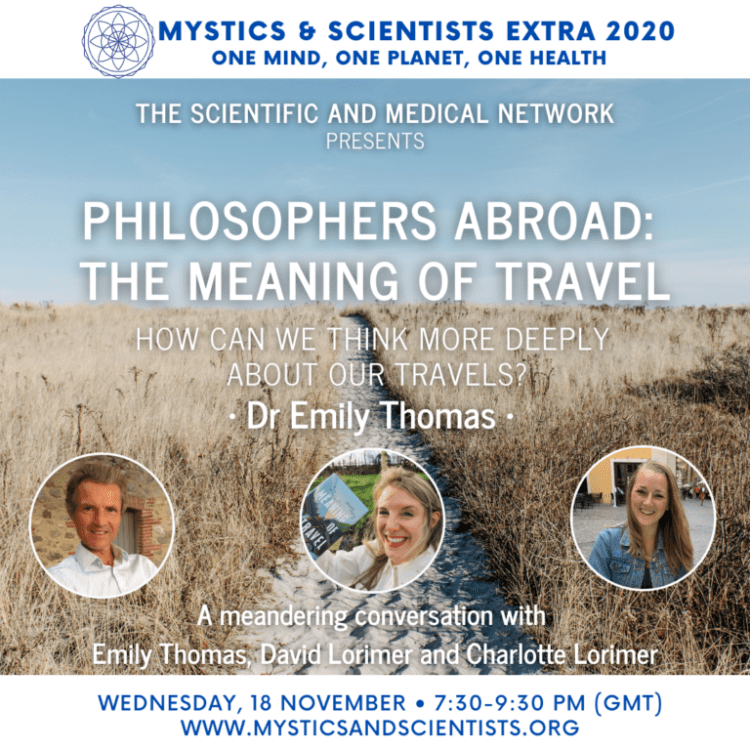 Emily Thomas – Philosophers Abroad: The Meaning of Travel
A meandering conversation with Emily Thomas, David Lorimer and Charlotte Lorimer 
How can we think more deeply about our travels? 
Join Emily Thomas for a fascinating and intriguing journey into the meaning of travel at a paradoxical time of travel restrictions!  
For us, travel is basically an encounter with the unfamiliar, with otherness, in which we also discover new parts of ourselves. Part philosophical  ramble, part travelogue, The Meaning of Travel traverses the places  where philosophy and travel intersect. Among other themes, the book investigates Michel de  Montaigne on otherness, Edmund Burke on the sublime, John Locke on cannibals (he had 200 books on travel), Henry Thoreau  on solitude and wilderness, and Thomas Cook's initiation of modern tourism in 1841. We discover the origins and adventures of the Grand Tour, the dark side of maps, and how Henry More's philosophy  of space fuelled mountain tourism; and we question the ethics of 'doom tourism': 'amazing places to visit before they vanish.'
Sold out!
Speaker
Emily Thomas

Associate Professor in Philosophy at Durham  University.

Dr Emily Thomas is Associate Professor in Philosophy at Durham  University. Prior to this she obtained a PhD from the University of Cambridge, and held a NWO grant at the University of  Groningen. She has published widely on the history of  metaphysics, especially space and time. Her most recent book is  The Meaning of Travel: Philosophers Abroad (Oxford  University Press, 2020).