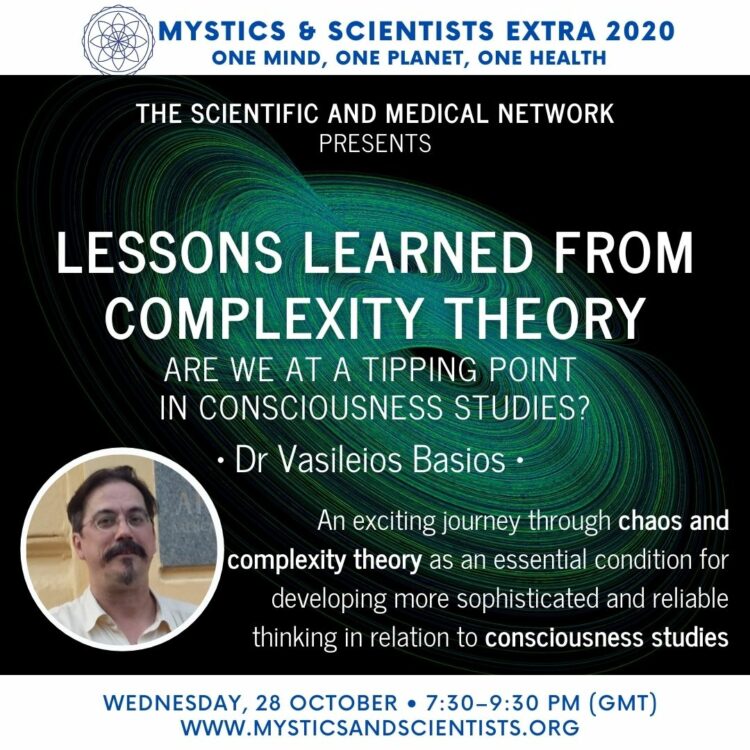 Vasileios Basios – Lessons Learned from Complexity Theory: Are We at a Tipping Point in Consciousness Studies?
How can we relearn organisation through self-organising systems?
J

oin Dr 

Vasileios

 

Basios

 for an exciting journey through chaos and complexity theory as an essential condition for 

developing 

more sophisticated

 and reliable

 thinking about the processes of change and transformation in relation to consciousness studies.
The breakthroughs of modern science always point way beyond its own conceptual framework. However, we have not yet come to terms with their significance as to how to incorporate these new horizons in how we think, act and learn. Although Complexity Theory highlights the importance of non-linearity, we still try to solve our non-linear problems with linear thinking. Although wholeness informs modern science, we still try to fix the parts via mechanically informed concepts, either at the level of institutions of at the level of individuals. We know now, from Chaos Theory, that determinism does not imply necessarily predictability and that strong tipping points and crises announce themselves through weak signals, yet we stick into anticipating the big trends. In order to navigate safely through a complex and changing landscape, we must re-learn organisation from self-organising systems and adaptation from self-adaptive systems; and stop thinking about wholes as mere sums of parts. 
Speaker
Vasileios Basios

senior researcher at the Physics of Complex Systems Department of the University of Brussels

Dr. Vasileios Basios is a senior researcher at the Physics of Complex Systems Department of the University of Brussels, conducting interdisciplinary research on self-organisation and emergence in complex matter as well as aspects of the foundations of complex systems. During his formative years he worked within the team of Ilya Prigogine (Nobel laureate and honorary SMN Member) at the Solvay Institutes for Physics and Chemistry in Brussels. He is interested on the history of ideas in science and their role in the transformation of science beyond the prevailing mechanistic world-view. As a board member of the Scientific & Medical Network, he also maintains a keen interest in contemporary research avenues that have started to lead us to a new renaissance, concerned with the renewal of a "re-enchanted" nature. Vasili is also a Member of the Steering Group of the Galileo Commission (www.galileocommission.org).