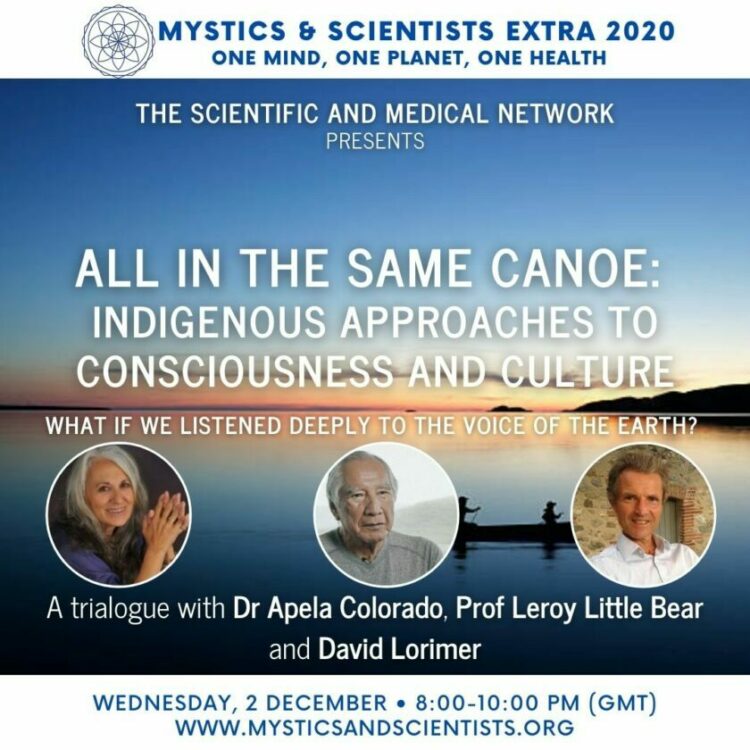 All in the Same Canoe – Indigenous Approaches to Consciousness and Culture
What if we listened deeply to the Voice of the Earth? 
Join First People North American Elders 

Apela

 Colorado and Leroy Little Bear for a searching exploration into indigenous understandings of consciousness, thought and language that provide striking contrasts with Western approaches that most of us take for granted.
Humans are paradoxical beings with immense powers as agents of both creation and destruction. On the one hand, there are many inspiring examples of co-operation and collaboration, while on the other indigenous healers and environmentalists are being targeted for harassment and assassination by those who feel that their financial interests are under threat. Indigenous people recognise the shadow side and work to transform it rather than projecting it onto 'the other'.  
For indigenous people, reality is relational and truth is revealed by listening deeply to the Voice of the Earth, sometimes transmitted through dreams and visions and an understanding of natural cycles of life and death. For them, objectivity means that the human being is not in the picture, which they find peculiar and the outcome of cultural 'reality structuring' through 'interpretation templates'. They connect time to place and define their science in terms of relationship rather than measurement – this a crucial message for our hubristic and uprooted 'Anthropocene Age'.
Sold out!
Speakers
Apela Colorado Ph.D

Apela Colorado Ph.D., of Oneida-Gaul ancestry, has dedicated her life's work to bridging Western thought and indigenous worldviews. As a Ford Fellow, Dr. Colorado studied for her doctorate at both Harvard and Brandeis Universities and received her Ph.D. from Brandeis in Social Policy in 1982. She founded the Worldwide Indigenous Science Network (WISN) in 1989 to foster the revitalization, growth, and worldwide exchange of traditional knowledge and to safeguard the lives and work of the world's endangered traditional culture practitioners. In 1997, Dr. Colorado was one of twelve women chosen from 52 countries by the State of the World Forum (http://www.worldforum.org) to be honoured for her role as a woman leader. In addition to WISN's many projects—which span the globe and range from research on migration stories of indigenous peoples in Central Asia to big cat conservation—Dr. Colorado founded the Indigenous Science and Peace Studies at the UN University of Peace, the first fully accredited advanced degree programme taught from an Indigenous perspective that consciously integrates western knowledge. She has also authored numerous articles, including several in peer-reviewed journals, and is the author of Woman between the Worlds (2021). 

David Lorimer

Writer, Lecturer, Poet, Editor

David Lorimer, MA, PGCE, FRSA is a writer, lecturer, poet and editor who is a Founder of Character Education Scotland, Programme Director of the Scientific and Medical Network  and former President of Wrekin Trust and the Swedenborg Society. David is also the Editor of Paradigm Explorer, and Chair of the Galileo Commission, which seeks the expand the evidence base of science of consciousness beyond a materialistic world view.

Originally a merchant banker then a teacher of philosophy and modern languages at Winchester College, he is the author and editor of over a dozen books, including Survival? Death as Transition (1984,2017) Resonant Mind (originally Whole in One) (1990/2017), The Spirit of Science (1998), Thinking Beyond the Brain (2001), The Protein Crunch (with Jason Drew) and A New Renaissance (edited with Oliver Robinson). He has edited three books about the Bulgarian sage Beinsa Douno (Peter Deunov): Prophet for our Times (1991, 2015), The Circle of Sacred Dance, and Gems of Love, which is a translation of his prayers and formulas into English. His book on the ideas and work of the Prince of Wales – Radical Prince (2003) – has been translated into Dutch, Spanish and French. His most recent books are A Quest for Wisdom and his collection of poems, Better Light a Candle.

Leroy Little Bear

Leroy Little Bear has himself become an institution. This veteran educator and renowned academic is a model for all Aboriginals striving for success in higher learning. The founder of the Native American Studies Department at the University of Lethbridge – where he served as Chair for 21 years – also went on to become the founding Director of Harvard University's Native American Program. He's co-authored three texts – Pathways to Self-Determination: Native Indian Leaders Perspectives on Self-Government, Quest for Justice: Aboriginal Rights in Canada, and, Governments in Conflict: Provinces and Indian Nations in Canada – and helped write Justice on Trial, the report of Alberta's Task Force on the Criminal Justice System and Its Impacts on the Indian and Métis Peoples of Alberta. A member of the Blackfoot Confederacy, Little Bear contributed to publications for the Royal Commission on Aboriginal Peoples in the area of criminal justice issues, did the same for the Assembly of First Nations on constitutional issues and has provided legal advice to numerous Aboriginal organizations on land claims, treaties and hunting and fishing rights. He is now recognized as one of the continent's leaders in the advancement and acceptance of North American Indian philosophy. When he began his studies in the 1960s he quickly determined he wasn't attending university for himself. Instead, Leroy Little Bear did it for his people. "Educating Native students was my way of making a difference," he says. "If I can graduate ten or fifty Native students then that makes a big difference." He has already succeeded way beyond this initial ambition.