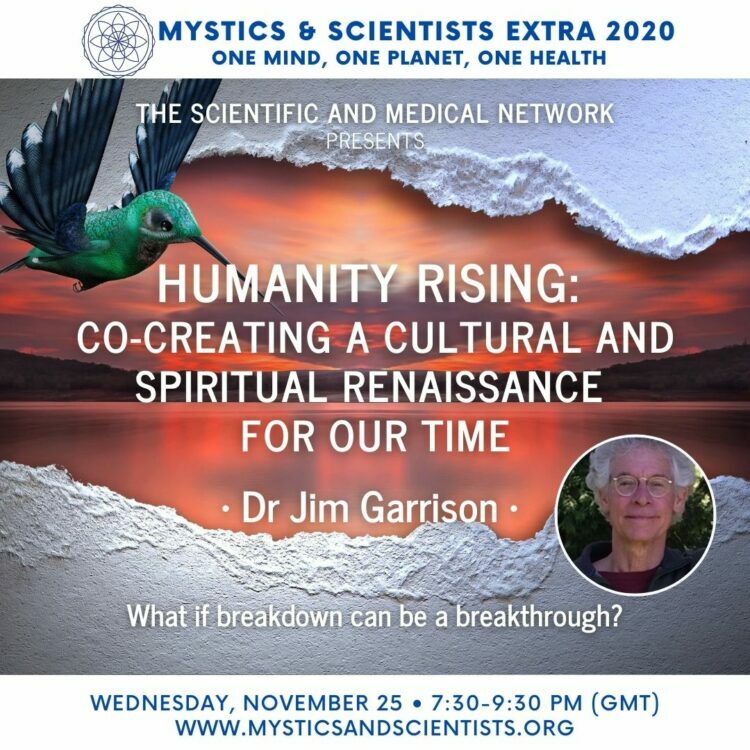 Dr Jim Garrison – Humanity Rising: Co-creating a Cultural and Spiritual Renaissance for our Time
What if breakdown can be a breakthrough? 
Join Dr Jim Garrison for a roller coaster ride through the inspirational series of 

solution-oriented 

Humanity Rising conversations he has been hosting since the early summer – t

hese are

 a real sign of hope in our chaotic times!

 

  
In the midst of the pandemic, humanity is rising all over the world and in all kinds of ways. Amsterdam made the decision to embrace Doughnut economics and place human well–being at the centre of their post-pandemic city planning. The people of Chile voted to throw out the repressive constitution of Pinochet and embrace gender equality in governance moving forward. At a time of immense global breakdown, people and organisations everywhere are breaking through.
Humanity Rising represents a movement of people and organizations coming together to take counsel on how to leverage crises into opportunities for human renewal and increased resilience to future challenges.
Sold out!
Speaker
James Garrison

Founder and President of Ubiquity University

Dr James Garrison is founder and president of Ubiquity University, a global university based in California. He came to this having served as President of Wisdom University which he led from 2005 – 2012, after which he led its transition into Ubiquity University, established in 2012. He has spent his entire professional life in executive leadership, including as co-founder and president of the Gorbachev Foundation/USA (1992 – 1995) and State of the World Forum (1995 – 2004) with Mikhail Gorbachev serving as convening chairman.

Jim received his BA in History from the University of Santa Clara, an MA in History of Religion from Harvard University, and a PhD in Philosophical Theology from Cambridge University. He has written numerous books, including The Plutonium Culture, America as Empire, The Darkness of God: Theology after Hiroshima, Citizen Diplomacy, and Civilization and the Transformation of Power. He lectures regularly on comparative philosophy and religion, world history and politics, and the implications of global warming.