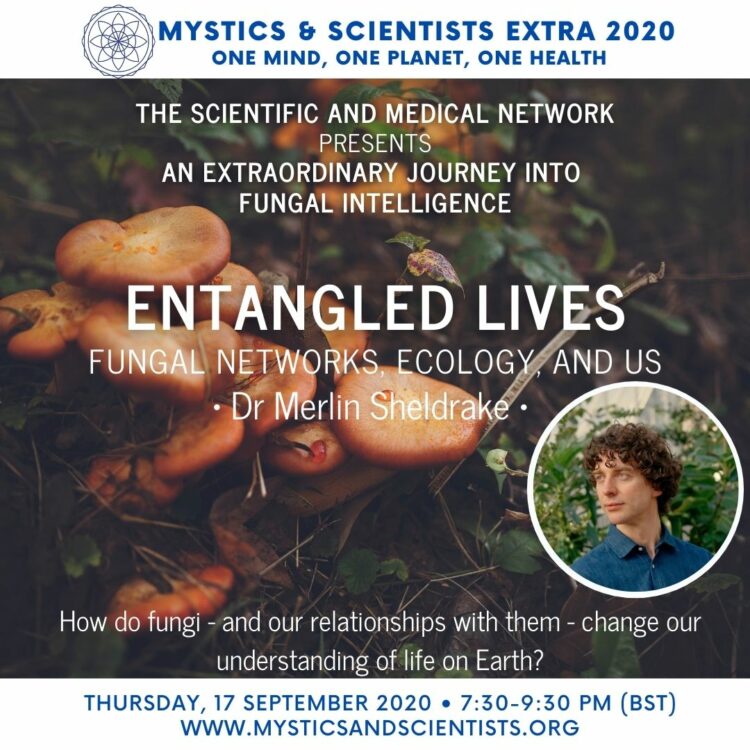 Entangled Lives: an exploration of fungal intelligence
Join us for an extraordinary journey into fungal intelligence – it's sure to transform the way you see yourself and the world! 
Thinking about fungi makes the world look different. Most fungi live out of sight, yet make up a massively diverse kingdom of organisms that support and sustain nearly all living systems. Fungi throw our concepts of individuality and even intelligence into question. They can change our minds, heal our bodies, and help remediate environmental disaster.
In this talk and Q & A, Merlin will discuss the ways these extraordinary organisms – and our relationships with them – change our understanding the planet on which we live, and the ways that we think, feel, and behave.  
Reviews and endorsements of the book:
 "This book may not be a psychedelic… but reading it left me not just moved but altered, eager to disseminate its message of what fungi can do."  — THE NEW YORK TIMES
"A gorgeous book of literary nature writing… food for the soul." — THE WALL STREET JOURNAL
"This book rocked me into remembering that nature, especially fungal nature, is big and encompassing and creative and destructive. It reminded me that fungi are, like the Universe, sublime." — SCIENCE
"One of those rare books that can truly change the way you see the world around you… a mercurial, revelatory, impassioned, urgent, astounding, and necessary read." – Helen Macdonald, author of H is for Hawk
 "A true masterpiece."  — George Monbiot, author of Feral 
Also see this Guardian article about the Merlin and the study of mycology.
Speaker
Merlin Sheldrake

biologist and author

Merlin Sheldrake PhD is a biologist and author of Entangled Life: How Fungi Make Our Worlds, Change Our Minds, and Shape Our Futures. He received a Ph.D. in tropical ecology from Cambridge University for his work on underground fungal networks in tropical forests in Panama, where he was a predoctoral research fellow of the Smithsonian Tropical Research Institute. Merlin's is a keen brewer and fermenter, and is fascinated by the relationships that arise between humans and more-than-human organisms.