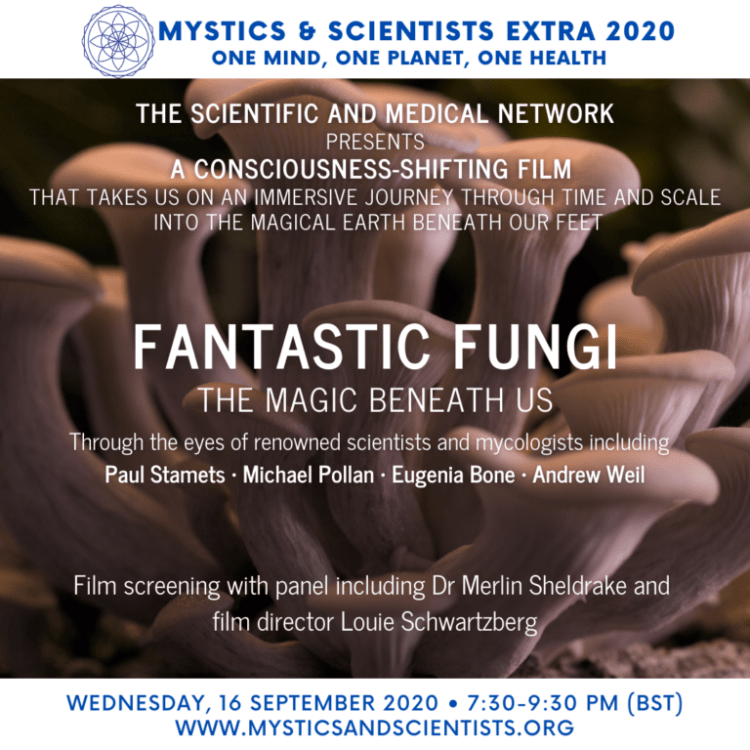 Fantastic Fungi : Film (81 mins) and panel discussion with Director Louis Schwartzberg, Dr Merlin Sheldrake and Dr David Luke
When so many are struggling for connection, inspiration and hope, Fantastic Fungi brings us together as interconnected creators of our world.  
 Join us for a unique experience of viewing the film and a panel discussion including Director Louis Schwartzberg, Dr Merlin Sheldrake and Dr David Luke. You will be amazed and enchanted by the incredible time-lapse photography in the film that brings home the transformative nature of fungal processes. 
 Fantastic Fungi, directed by Louie Schwartzberg, is a consciousness-shifting film that takes us on an immersive journey through time and scale into the magical earth beneath our feet, an underground network that can heal and save our planet.  
Through the eyes of renowned scientists and mycologists like Paul Stamets, best-selling authors Michael Pollan, Eugenia Bone, Andrew Weil and others, we become aware of the beauty, intelligence and solutions the fungi kingdom offers us in response to some of our most pressing medical, therapeutic, and environmental challenges.  
Speakers
David Luke

Dr David Luke is Senior Lecturer in Psychology and joined the Department of Psychology and Counselling at the University of Greenwich in October 2008. Dr Luke currently module leader of the Psychology of Exceptional Human Experience, which has been running since 2009, and also teaches on the Introduction to Psychology, and Criminology and Forensic Psychology modules. Dr Luke is currently Honorary Senior Lecturer, Centre for Psychedelic Research, Division of Brain Sciences, Imperial College London, and is a lecturer on the MSc Consciousness, Spirituality and Transpersonal Psychology where he leads and teaches a module on Psychedelics and Entheogens for The Alef Trust via Liverpool John Moores University. He was President of the Parapsychological Association between 2009 and 2011, and received an Early Career Research Excellence Award (2011) and the Faculty's first Inspirational Teaching Award (2016) from the University of Greenwich.

Louis Schwartzberg

Louis Schwartzberg, is an American director, producer, and cinematographer. Schwartzberg is recognized as a pioneer in high-end time-lapse cinematography.[Schwartzberg is the only cinematographer in the world who has been shooting time-lapse film 24 hours a day, 7 days a week continuously for over three decades. Schwartzberg is a visual artist who focuses on connections between humans and the subtleties of nature and environment.

Merlin Sheldrake

biologist and author

Merlin Sheldrake PhD is a biologist and author of Entangled Life: How Fungi Make Our Worlds, Change Our Minds, and Shape Our Futures. He received a Ph.D. in tropical ecology from Cambridge University for his work on underground fungal networks in tropical forests in Panama, where he was a predoctoral research fellow of the Smithsonian Tropical Research Institute. Merlin's is a keen brewer and fermenter, and is fascinated by the relationships that arise between humans and more-than-human organisms.