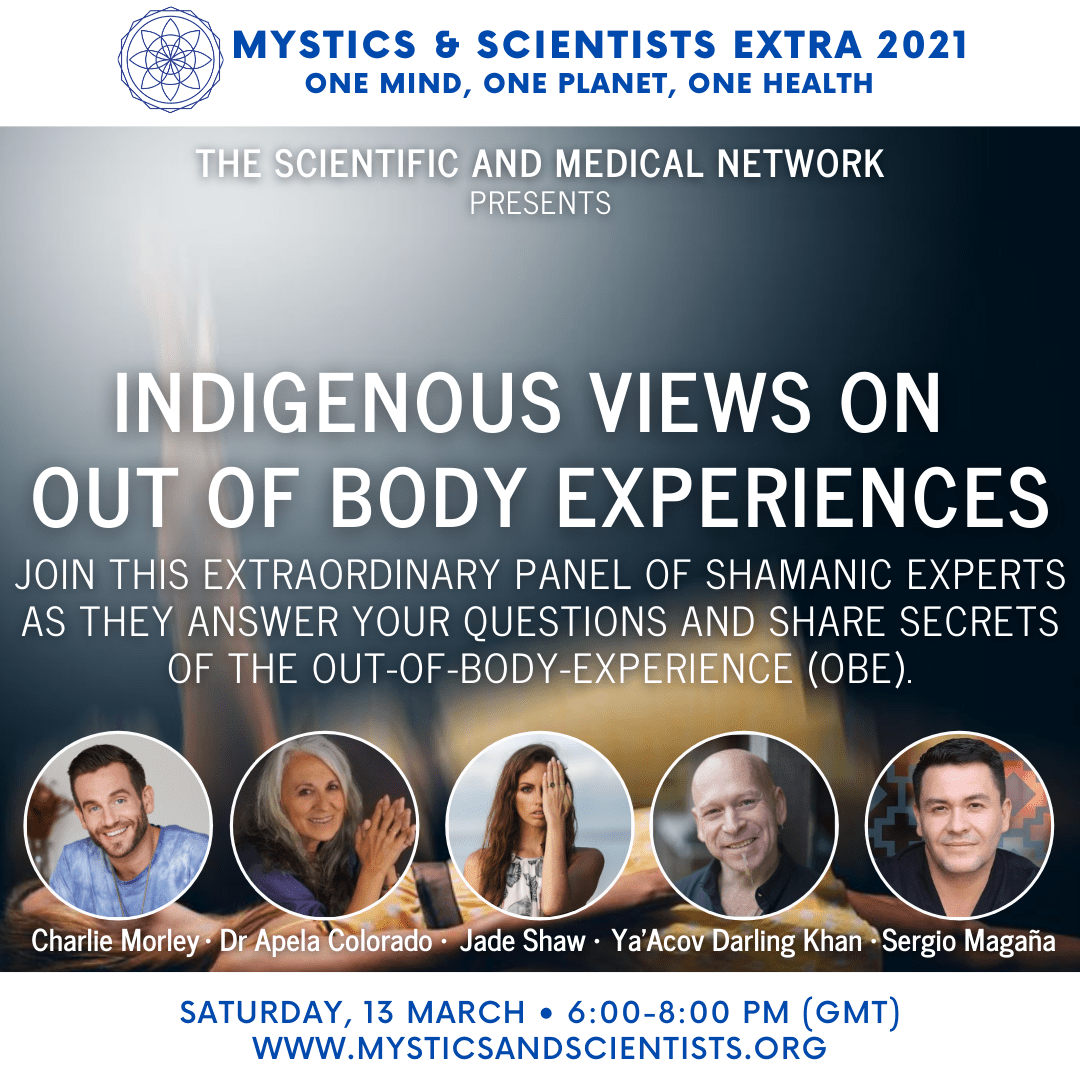 Indigenous Views on Out of Body Experiences
---
What is the deep significance of the OBE?
Join this extraordinary panel of shamanic experts: Jade Shaw, Charlie Morley, Dr Apela Colorado, Sergio Magaña, Ya'Acov Darling Khan, as they answer your questions and share secrets of the out-of-body-experience (OBE).
90% of the world's cultures have institutionalised forms of altered states of consciousness that are used to make sense of the world. These other ways of 'knowing' are not only found in most societies but are actually considered normal. 
One of these practices is the self-initiated OBE (sometimes known as Astral Projection). From Shamanic folk traditions to Tibetan Buddhism this ancient technique has been sought to activate transcendent levels of awareness for insight, guidance and healing. 
But what happens when ordinary people start having experiences and how can they use it to aid their life? This panel explores the indigenous view of OBEs, and their relationship to mental health, death, society and spiritual awakening. 
What if it was possible to  connect with people and places beyond space and time? Where would you go, who would you meet and what would you bring back?
Let's find out.  
•
About the speakers: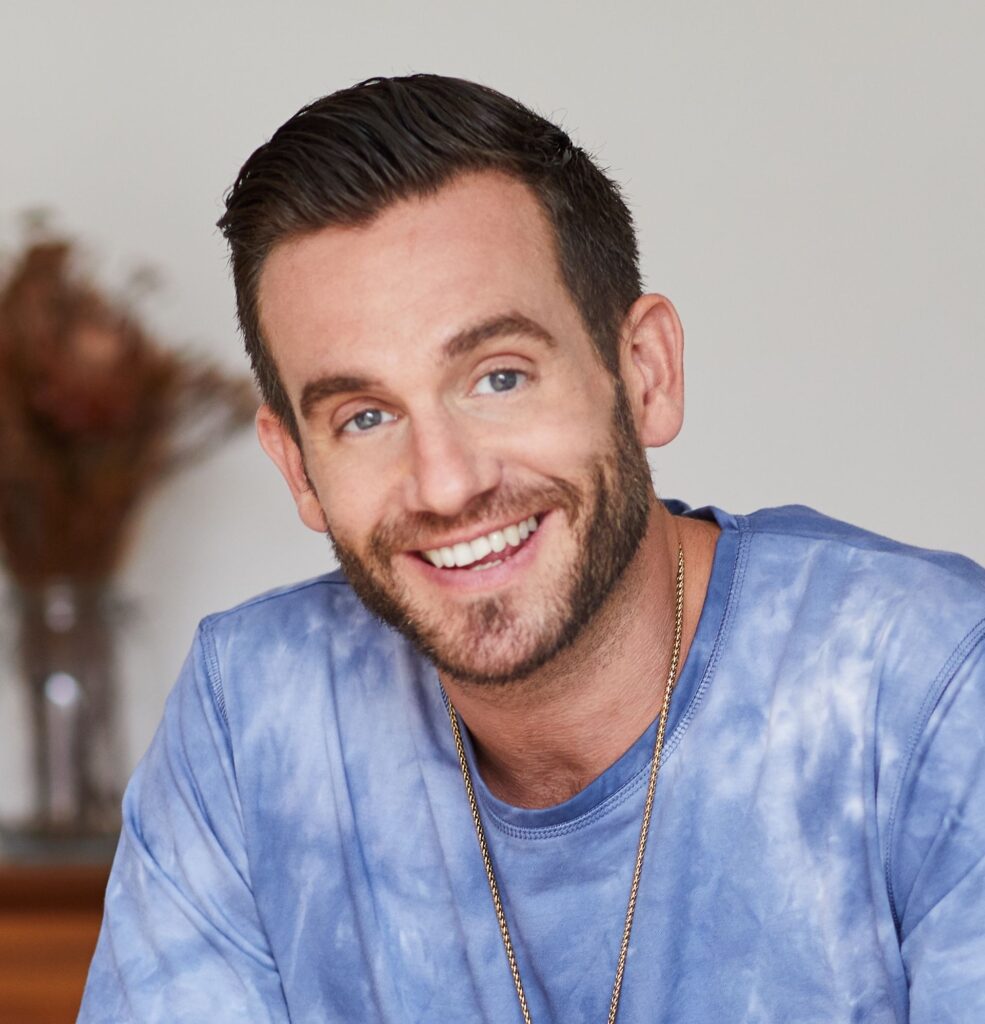 Charlie Morley is a bestselling author and teacher of lucid dreaming, shadow integration and Mindfulness of Dream & Sleep. He has been lucid dreaming for over 20 years and was "authorised to teach" within the Kagyu school of Tibetan Buddhism by  Lama Yeshe Rinpoche  in 2008. Since then he has written four books which have been translated into 15 languages and  has run workshops & retreats in more than 20 countries. He's spoken at both Oxford and Cambridge Universities, the Ministry of Defence Mindfulness Symposium, The Houses of Parliament (on Buddhism & youth culture) and the Mindfulness Association Annual conferences. In 2018 he was awarded a  Winston Churchill Fellowship  grant  to research PTSD treatment in Military Veterans and continues to teach people with trauma affected sleep a set of practices called  Mindfulness of Dream & Sleep.  His 2021 book 'Wake Up to Sleep' is a practical guide to these practices.  Charlie has been the lead consultant on scientific studies into lucid dreaming at both Swansea University and the Institute of Noetic Sciences. In 2019 he created the first  Lucid Dreaming for Therapists  course which trained a group of hypnotherapists, meditation teachers and therapists to use lucid dreaming with their clients. 
Sergio Magaña is a practitioner and teacher of a spiritual lineage that began 5,000 years ago in Mesoamerica with the chichimecas and was passed on to the Aztecs, the last great culture. This knowledge is still preserved today by the nahua speaking communities and is now experiencing a worldwide rebirth, transcending the borders of Mexico. The part of this knowledge in which he has specialized, is the one known as Toltecayotl (the knowledge of wise men) that encompasses Nahualism: the teachings imparted to rulers, warriors and priests on how to control reality through dreams, a deep exploration of what we nowadays call the unconscious, to overcome all of our weaknesses and become the best possible version of ourselves. It also encompasses dream states, which are altered states that combine being asleep and being awake and allow us to see into other energetic dimensions. Sergio travels around the world and has a community of more than 100,000 students. He has given courses and conferences in many recognized institutes and prestigious organizations.
Sergio is also a prolific and successful writer, who reinterprets the ancient wisdom for the modern mind. In his latest book 'Caves of Power', he delves into the ancestral techniques of using energy to heal, rejuvenate and manifest. He also explains how we all have a hidden power located where our instincts and the unconscious live, and describes the steps to free ourselves from darkness and connect with our internal power to improve all aspects of our lives. 
Jade Shaw was a freelance choreographer and dance artist for the Royal Academy of Dance when she had an Out of Body Experience (OBE) that transformed her life. Now she is an OBE researcher, speaker and teacher that advocates expanded states of consciousness for personal and collective change. She studied the transformative effects of the phenomena for her Msc in Transpersonal Psychology. Keen to raise awareness of these benefits she produced 'Insight Out', a film on Gaia TV featuring neurosurgeon and best–selling author Eben Alexander, neuropsychiatrist Dr Peter Fenwick, award winning researcher Dr David Luke and former NASA physicist Tom Campbell.
She is the Astral Projection consultant for new Netflix series 'Behind her Eyes' and her mindfulness approach to OBEs for well-being has been featured in UK national magazines Women's Health, Spirit & Destiny and Soul & Spirit. To create access to this practise she has spoken at diverse venues from London's legendary spiritual organisation Alternatives to private member club Soho House and Europe's largest Mind Body Spirit Festival. Workshops have been delivered throughout the UK and Europe. She has worked with altered states for 20 years part of which included living in a Tibetan Buddhist Temple for five years, an intensive 10–day shamanic medicine ceremony in Peru, a pilgrimage to India and Bhutan. Education includes BA Hons Dance & Culture (Surrey University), foundation degree in Dance Movement Psychotherapy (Roehampton University), MSc Transpersonal Psychology (Middlesex University). Training involves level 2 with the Mindfulness Association, Gateway/OBE Intensive and OBE Spectrum programmes with the renowned Monroe Institute.
Ya'Acov Darling Khan, the author of the best-selling 'Jaguar in the Body, Butterfly in the Heart – the Real-Life Initiation of an Everyday Shaman' (Hay House 2017), and 'Shaman – Invoking Power, Presence and Purpose at the Core of Who YOU Are' (Hay House March 2020), is known for his blend of strength, humility and humour. He is acknowledged as a practising shaman by the people who work with him world-wide and by many indigenous elder shamans and communities from the Arctic to the Amazon. Travelling the world to work with groups delivering Movement Medicine, Ya'Acov has spoken to audiences across the globe at some on the most pre-eminent platforms driving the transformation of world culture and sustainability. Ya'Acov's message is that Shamanism, and a shift from society's focus on acquisition to reciprocity, is the key to restoring our universal connection and solving our interpersonal and world issues in the process. After struggling for years to come to terms with a perception of life that only traditional Shamanism could explain, it was being struck by lightning on a golf course that proved to be the awakening which was to change the course of his life forever. So began Ya'Acov's three decades of study and practise with spiritual teachers and Elder Shamans from the Sami (European tradition), and Achuar and Sápara peoples of the Amazon. 
"Along the way I had to carve out a sense of normality and accept that this being's soul, speaks the language of dance, ritual and prayer. I have come to recognise the fact that reawakening a sense of the magic, potential and splendour of creation in as many people as possible, is the blessing I am lucky enough to call my job!" says Ya'Acov.
In a time in which western society has become disconnected from ancestral and natural wisdom, much of his work is about education and removing the unhelpful mystique of the term 'Shaman,' meaning traditional healer.  "As a species, we are in a crisis. Our work? To reach as many people as possible and support them to know who they really are, find their purpose and live meaningful lives."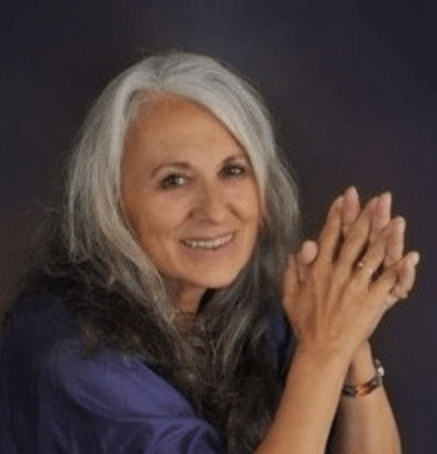 Apela Colorado PhD, of Oneida-Gaul ancestry, has dedicated her life's work to bridging Western thought and indigenous worldviews. As  a Ford Fellow, Dr Colorado studied for her doctorate at both Harvard and Brandeis Universities and received  her PhD from Brandeis  in Social Policy in 1982. She founded the Worldwide Indigenous Science Network (WISN) in 1989 to foster the revitalization, growth, and worldwide exchange of traditional knowledge and to safeguard the lives and work of the world's endangered traditional culture practitioners. In 1997, Dr Colorado was one of twelve women chosen from 52 countries by the State of the World Forum to be honoured for her role as a woman leader.
In addition to WISN's many projects — which span the globe and range from research on migration stories of indigenous peoples in Central Asia to big cat conservation — Dr Colorado founded the Indigenous Science and Peace Studies at the UN University of Peace, the first fully accredited advanced degree programme taught from an Indigenous perspective that consciously integrates western knowledge. She has also authored numerous articles, including several in peer-reviewed journals, and is the author of 'Woman between the Worlds' (2017).
Speakers
Apela Colorado

Researcher, Author, Speaker

Apela Colorado PhD, of Oneida-Gaul ancestry, has dedicated her life's work to bridging Western thought and indigenous worldviews. As  a Ford Fellow, Dr Colorado studied for her doctorate at both Harvard and Brandeis Universities and received  her PhD from Brandeis  in Social Policy in 1982. She founded the Worldwide Indigenous Science Network (WISN) in 1989 to foster the revitalization, growth, and worldwide exchange of traditional knowledge and to safeguard the lives and work of the world's endangered traditional culture practitioners. In 1997, Dr Colorado was one of twelve women chosen from 52 countries by the State of the World Forum to be honoured for her role as a woman leader.   

In addition to WISN's many projects — which span the globe and range from research on migration stories of indigenous peoples in Central Asia to big cat conservation — Dr Colorado founded the Indigenous Science and Peace Studies at the UN University of Peace, the first fully accredited advanced degree programme taught from an Indigenous perspective that consciously integrates western knowledge. She has also authored numerous articles, including several in peer-reviewed journals, and is the author of 'Woman between the Worlds' (2017).

Charlie Morley

Author, Lucid Dreaming Teacher

Charlie Morley is a bestselling author and teacher of lucid dreaming, shadow integration and Mindfulness of Dream & Sleep. He has been lucid dreaming for over 20 years and was "authorised to teach" within the Kagyu school of Tibetan Buddhism by  Lama Yeshe Rinpoche  in 2008. Since then he has written four books which have been translated into 15 languages and  has run workshops & retreats in more than 20 countries. He's spoken at both Oxford and Cambridge Universities, the Ministry of Defence Mindfulness Symposium, The Houses of Parliament (on Buddhism & youth culture) and the Mindfulness Association Annual conferences. In 2018 he was awarded a  Winston Churchill Fellowship  grant  to research PTSD treatment in Military Veterans and continues to teach people with trauma affected sleep a set of practices called  Mindfulness of Dream & Sleep.  His 2021 book 'Wake Up to Sleep' is a practical guide to these practices. 

Charlie has been the lead consultant on scientific studies into lucid dreaming at both Swansea University and the Institute of Noetic Sciences. In 2019 he created the first  Lucid Dreaming for Therapists  course which trained a group of hypnotherapists, meditation teachers and therapists to use lucid dreaming with their clients.

Jade Shaw

Out of Body Experience Researcher, Speaker, Teacher

Jade Shaw was a freelance choreographer and dance artist for the Royal Academy of Dance when she had an Out of Body Experience (OBE) that transformed her life. Now she is an OBE researcher, speaker and teacher that advocates expanded states of consciousness for personal and collective change. She studied the transformative effects of the phenomena for her Msc in Transpersonal Psychology. Keen to raise awareness of these benefits she produced 'Insight Out', a film on Gaia TV featuring neurosurgeon and best-selling author Eben Alexander, neuropsychiatrist Dr Peter Fenwick, award winning researcher Dr David Luke and former NASA physicist Tom Campbell.  

She is the Astral Projection consultant for new Netflix series 'Behind her Eyes' and her mindfulness approach to OBEs for well-being has been featured in UK national magazines Women's Health, Spirit & Destiny and Soul & Spirit. To create access to this practise she has spoken at diverse venues from London's legendary spiritual organisation Alternatives to private member club Soho House and Europe's largest Mind Body Spirit Festival. Workshops have been delivered throughout the UK and Europe. She has worked with altered states for 20 years part of which included living in a Tibetan Buddhist Temple for five years, an intensive 10-day shamanic medicine ceremony in Peru, a pilgrimage to India and Bhutan. Education includes BA Hons Dance & Culture (Surrey University), foundation degree in Dance Movement Psychotherapy (Roehampton University), MSc Transpersonal Psychology (Middlesex University). Training involves level 2 with the Mindfulness Association, Gateway/OBE Intensive and OBE Spectrum programmes with the renowned Monroe Institute.

Sergio Magaña

Spiritual Teacher

Sergio Magaña is a practitioner and teacher of a spiritual lineage that began 5,000 years ago in Mesoamerica with the chichimecas and was passed on to the Aztecs, the last great culture. This knowledge is still preserved today by the nahua speaking communities and is now experiencing a worldwide rebirth, transcending the borders of Mexico. The part of this knowledge in which he has specialized, is the one known as Toltecayotl (the knowledge of wise men) that encompasses Nahualism: the teachings imparted to rulers, warriors and priests on how to control reality through dreams, a deep exploration of what we nowadays call the unconscious, to overcome all of our weaknesses and become the best possible version of ourselves. It also encompasses dream states, which are altered states that combine being asleep and being awake and allow us to see into other energetic dimensions. Sergio travels around the world and has a community of more than 100,000 students. He has given courses and conferences in many recognized institutes and prestigious organizations. 

Sergio is also a prolific and successful writer, who reinterprets the ancient wisdom for the modern mind. In his latest book 'Caves of Power', he delves into the ancestral techniques of using energy to heal, rejuvenate and manifest. He also explains how we all have a hidden power located where our instincts and the unconscious live, and describes the steps to free ourselves from darkness and connect with our internal power to improve all aspects of our lives. 

Ya'Acov Darling Khan

Author, Healer, Shaman

Ya'Acov Darling Khan, the author of the best-selling 'Jaguar in the Body, Butterfly in the Heart – the Real-Life Initiation of an Everyday Shaman' (Hay House 2017), and 'Shaman – Invoking Power, Presence and Purpose at the Core of Who YOU Are' (Hay House March 2020), is known for his blend of strength, humility and humour. He is acknowledged as a practising shaman by the people who work with him world-wide and by many indigenous elder shamans and communities from the Arctic to the Amazon. Travelling the world to work with groups delivering Movement Medicine, Ya'Acov has spoken to audiences across the globe at some on the most pre-eminent platforms driving the transformation of world culture and sustainability. Ya'Acov's message is that Shamanism, and a shift from society's focus on acquisition to reciprocity, is the key to restoring our universal connection and solving our interpersonal and world issues in the process. After struggling for years to come to terms with a perception of life that only traditional Shamanism could explain, it was being struck by lightning on a golf course that proved to be the awakening which was to change the course of his life forever. So began Ya'Acov's three decades of study and practise with spiritual teachers and Elder Shamans from the Sami (European tradition), and Achuar and Sápara peoples of the Amazon.   

"Along the way I had to carve out a sense of normality and accept that this being's soul, speaks the language of dance, ritual and prayer. I have come to recognise the fact that reawakening a sense of the magic, potential and splendour of creation in as many people as possible, is the blessing I am lucky enough to call my job!" says Ya'Acov.  

In a time in which western society has become disconnected from ancestral and natural wisdom, much of his work is about education and removing the unhelpful mystique of the term 'Shaman,' meaning traditional healer. 

"As a species, we are in a crisis. Our work? To reach as many people as possible and support them to know who they really are, find their purpose and live meaningful lives."