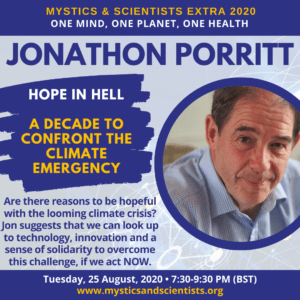 Jonathon Porritt – Hope in Hell
While Covid-19 has distracted us from wider environmental issues, it has reminded us of our interconnectedness with the web of life and the dangers of our exploitative relationship with the natural world. In this webinar, leading UK environmentalist Jonathon Porritt will discuss the urgency of the challenge of climate change in view of political inertia and systemic short-termism. As solar energy pioneer Hermann Scheer observed: instead of 'Think Globally, Act Locally', the reality is 'Think Globally, Postpone Nationally'. This will no longer measure up if it ever did.
Climate change remains the defining issue of our time – and by far the gravest challenge humankind has ever faced, including the COVID 19 pandemic.  In my new book, I'm confronting that crisis head on, based on the premise that we do still have time to do what needs to be done, but only if we move now.  There's no point shying away from the disturbing truth about today's climate science, but we have to dig deep into the reasons to be hopeful: new technology, the power of innovation, the mobilisation of young people, and a sense of solidarity as older citizens come to understand their own obligation to secure a safer world for future generations.  But there's no denying that the COVID 19 pandemic will make all this a great deal harder.
Speaker
Jonathon Porritt

Jonathon Porritt, CBE has been on the front line of green campaigning for more than 45 years. He's been a member of the Green Party throughout that time, and has worked tirelessly to promote the solutions to today's converging environmental crises – as Director of Friends of the Earth in the 1980s, Co-Founder of Forum for the Future, the UK's leading sustainability charity, Chair of the UK Sustainable Development Commission, President of Population Matters and The Conservation Volunteers, and Chancellor of Keele University. His work as author and broadcaster has had a huge impact over the years.