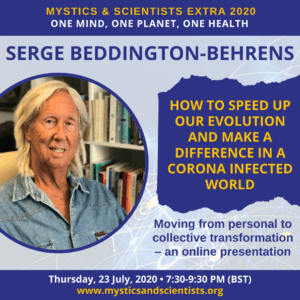 Serge Beddington-Behrens – How to Speed up our Evolution and Make a Difference in a Corona Infected World
It's a delight to welcome Serge Beddington-Behrens back for a second session in our ongoing webinar programme.
In this presentation, Serge will be looking at the ways we can use the pressures of this current crisis to leverage our personal and collective growth.
Serge says: 'In my last seminar, I talked about the Coronavirus as a 'Fierce Grace' come upon us, and of this dark cloud enshrouding us all, as having a silver lining. This is the central thesis in my new book: Guidelines to the Soul: Inner Work for the Outer World.
In it, I suggested a) that in these times of great crisis, assistance from higher levels of consciousness is strongly supporting those who are committed to making a positive difference in the world, and b), that a powerful 'window of opportunity' has currently opened up whereby if positive strategies are effectively embarked upon now, they will have all the power behind them as befitting  'ideas whose time has come'.
Bearing this in mind and remembering that we all have different paths to follow and different ways that we can be of service, we will explore the relationship between  our personal transformational journeys and what particular role or roles we feel called to play in our endeavours to help usher in a healthier society, that is, one which works for the well-being not just of the few but of the many.'
Watch a short clip of Serge chatting about his intentions for the webinar:
In this webinar you will learn:
How to tune into higher levels of consciousness at this time
How to relate your personal to the collective transformational journey
How to make a positive difference to your own well-being and that of others."
Speaker
Serge Beddington-Behrens:

My life has never been especially conventional and has always been about a search to find the true me. Having been born into a world of privilege and stark conventions my early life was a quest for something else, a place where I would feel more fully at home.My search for truth began in my mid-twenties and led to much travel and subsequent exploration of many different spiritual and psychological approaches to health and healing. What has always been important to me is to have a profession that expresses who I truly am, relationships that are genuine and places to live in that feel harmonious.Much of my early life was spent in Northern California where I did most of my psychological training. For over 40 years, I have had a private psychotherapy practice, trained therapists, lectured and taught workshops and spiritual retreats all over the world.I have an MA in English Literature from Oxford, and a Ph.D in Psychology. I have written two books and over 40 articles for academic journals. While in California, I co-founded the Institute for the Study of Conscious Evolution which taught degree courses. In 1999 I was awarded an Italian knighthood for services to humanity. I currently divide my time between London and Mallorca.