About Speaker
Born in India and educated at the universities of London, Sussex and Oxford, Edi Bilimoria presents an unusual blend of experience in the fields of science, arts and philosophy.
A student of the perennial philosophy for over half a century, Edi has given courses and lectured extensively in the UK, and internationally in California, the Netherlands, India, and Australia. He has organized and chaired conferences with the object of encouraging discourse on the different, but overlapping, roles of science, religion and practical philosophy. He worked as Education Manager for the Theosophical Society in Australia developing courses and study papers, researching, lecturing and organizing international conferences; as well as supervising the Research Library, National Media Library, National Members Lending Library and the development of the website.
An award-winning Consultant Engineer by profession for the offshore and transport industries, currently engaged on safety and environmental management for Royal Navy projects, Edi has published extensively in the fields of science, engineering and the esoteric philosophy. His trilogy Unfolding Consciousness: Exploring the Living Universe and Intelligent Powers in Nature and Man will be published early in 2022. His book The Snake and the Rope was awarded a prize in 2007 by the Scientific and Medical Network on which he now serves as a Board Director.
An enthusiastic glider pilot for many years, Edi is a choral singer and a dedicated pianist of concert standard.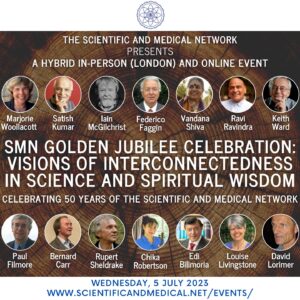 An in-person and live-streamed event to celebrate 50 years of
...
No event found!