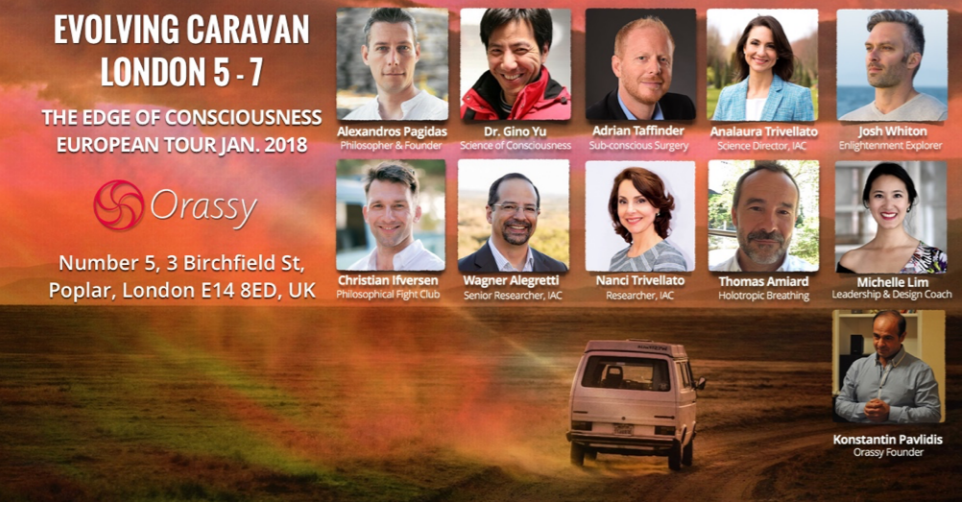 Dare to Start Boldly: Follow us to the Edge of Consciousness
The Evolving Caravan is coming to London! Meet and interact with experts from all over the world
specialising in personal development & transformation on Jan. 5-7 at Orassy. You'll meet
academics from Asia like Dr. Gino Yu who have been using media, interactive media, biofeedback,
and inter-subjective experiences to facilitate personal transformation and induce awakening; Greek
philosophers (Alexandros Pagidas) and Black Belts in Jiu Jitsu (Christian Ifversen) who have been
integrating philosophy and martial arts into a workshop expanding our consciousness through an
exploration of freedom and power; Brazilian researchers (Wagner Alegretti, Nanci and Analaura
Trivellato) from the International Academy of Consciousness who study bio-energies with fMRIs,
research out-of-body experiences, and teach you how to become aware of your energies and have
your own experiences; American world-class entrepreneurs (Josh Whiton) who have been
exploring enlightenment with the same passion that built their multi-million dollar ventures that
have been publicly recognized as Champions of Change by past U.S. Presidents (Barack Obama)
for their innovative work; Swedish experts (Michelle Lim) in Design Thinking and Leadership with
degrees from Harvard; British empaths like Adrian Taffinder, a "subconscious surgeon", who will
guide you through the latest psychometric exercises, allowing you to physically and personally
experience and recognise limiting patterns of behaviour, or French therapists (Thomas Amiard)
who spent months in Latin American jungles learning the shamanic traditions and getting certified
in Holotropic Breathwork to be able to share that with you in London. Orassy's founder Konstantin
Pavlidis will also join via Skype from Australia to share his latest insights on the nature of
consciousness. In short, this promises to be an unforgettable 3-day event of life-changing
experiences! Check the full program here.
Use the discount code "caravanfriends" for 20% off