Vera de Chalambert, spiritual storyteller and Harvard-educated scholar of comparative religion offers a unique view of the recent US Presidential Election. Donald Trump's election cannot be explained by politics alone. It involved the awakening of the archetype of Kali, the Dark Mother, destroyer of illusions.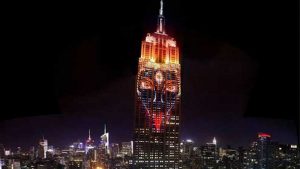 Last year, Kali, the Hindu Goddess of death, destruction and resurrection, appeared on the Empire State Building, projected as an avatar of conservation by the filmmakers of Racing Extinction, a documentary about the environmental catastrophe now upon us. At the time I was so struck by the image I wrote an article about the apparition. Kali Takes New York, I raved.
On election night, as the results were projected onto the Empire State Building, all I could see was Kali's fierce stare. This was déjà vu. This time, Kali took America.
PMK