Next Steps for Wellbeing in Education Conference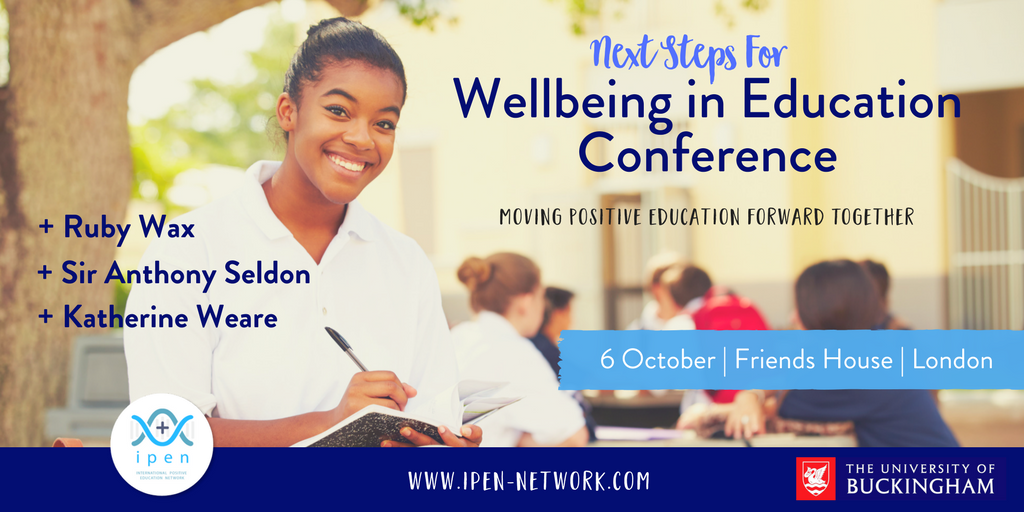 DESCRIPTION
Back by popular demand IPEN and The University of Buckingham are hosting Next Steps in Wellbeing Education Conference. With the same great topics but fresh new ideas and speakers. This event will focus on how best to prepare young people for the demands of the 21st century.
Topics with include: wellbeing, flourishing, mental health, 21st century skills, humour, and mindfulness.
Participants will have the opportunity to hear from experts in the field on how to use positive psychology in the classroom, at home and in their own lives.
Speakers Include:
Ruby Wax, Author of Frazzeled, TV Personality and Mental Health Advocate
Nicky Morgan MP, Member of Paraliment, Former Secetary of Education
Professor Russell Foster, University of Oxford, Head of the Nufield Laboratory of Ophtamology and The Sleep and Circadian Nuerosience Insitute
Sir Anthony Seldon, Vice-Chancellor, University of Buckingham
Katherine Weare, Author of Happy Teachers Change the World
Gus O'Donnell, Former Cabinet Secertary
+ Performances by Amy Winehouse Foundation
Doors open @ 8:30 AM
Event starts @ 9:30 AM
Event Ends @ 4:30 PM
For more details visit the organisers own event page