The Frenchman's Cove Experience, Jamaica, 2019
The Frenchman's Cove Experience, Jamaica, 2019
22nd-27th January (suggested travel from London 21st-30th January) 
Dr Oliver Robinson
will present
Paths Between Head and Heart:
Exploring the Harmonies of Science and Spirituality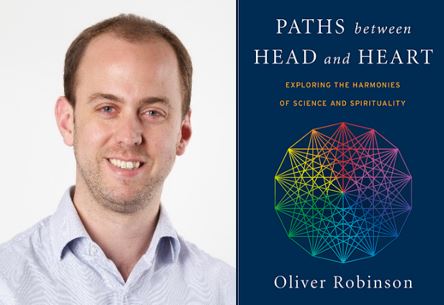 In his new book, Paths Between Head and Heart, Dr Oliver Robinson explores the idea that science and spirituality are harmonious and complementary pursuits, from historical, philosophical and experiential perspectives. Over the course of the Frenchman's Cove experience, Oliver will present the ideas from the book, facilitate discussion sessions, and curate a series of experiential and practical sessions on topics including creating sacred geometry, dialectical thinking, haiku poetry, and the science of the solar system, to explore the awe and wonder of what it means to be alive and how we can find a harmony between the different sides of our nature as human beings.

Dr Oliver Robinson is Senior Lecturer in Psychology at the University of Greenwich, co-organiser of the Beyond the Brain conference, a writer and speaker on interdisciplinary topics, and the author of Paths Between Head and Heart: Exploring the Harmony of Science and Spirituality. Dr Robinson's research has been covered by the Guardian, the Times and the New Scientist, and he has featured multiple times on radio and television. His website is www.oliverrobinson.info
The event will be chaired by David Lorimer and hosted by Diana Clift and will include optional excursions and social activities.
Situated near Port Antonio on the North coast of Jamaica, Frenchman's Cove is a 45 acre estate of outstanding beauty, with lush tropical vegetation and a river running down to a perfect sandy beach. Accommodation is in spacious villas on the cliff tops and rooms in the Great House.  Our talks and discussions will be held overlooking the sea.
For more details contact Diana Clift on [email protected] or text to +1 604 348 6346
The conference is organised in association with the Scientific and Medical Network
Endorsements for Paths Between Head and Heart
"This book plays a vital role in building a bridge between science and spirituality, demonstrating that they are natural partners in the evolution of our understanding of the universe and providing a comprehensive account of attempts to synthesise them. I particularly commend its dialectical structure, which puts the topic in a broader context than usual."
Bernard Carr, Professor of Mathematics and Astronomy at Queen Mary University of London
"Oliver Robinson brings a refreshingly creative approach to the dialogue between science and spirituality. Contextualising his thinking in a penetrating historical overview, he demonstrates clearly the ways in which a grasp of spirituality can illumine a range of scientific areas, most especially the study of psychological processes. In my view, his concluding map of the landscape in which science and spirituality intersect will become a valuable guide for those working in this area for many years to come." Les Lancaster, Emeritus Professor of Transpersonal Psychology, Liverpool John Moores University
See more endorsements and a brief description of the book at www.oliverrobinson.info