The Heart of the Rose
The Sacred Mathematics and Liberal Arts Festival
January 19th and 20th 2019
A collaboration between Mathematics & Mythos and
the Scientific and Medical Network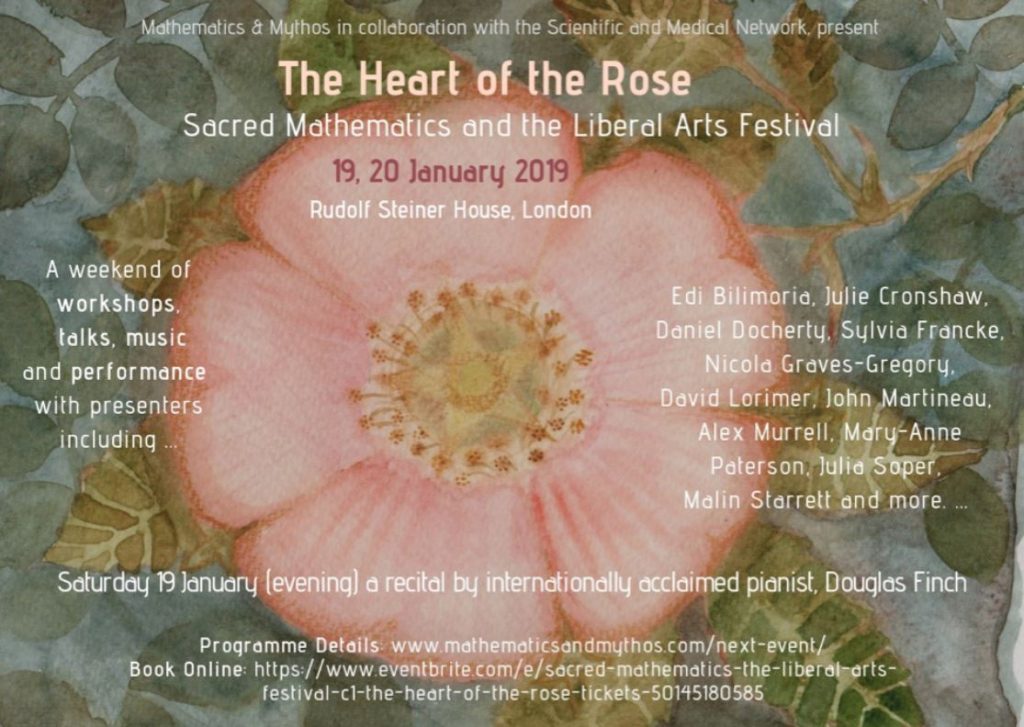 Sacred Mathematics and the Liberal Arts Festival
An inspiring weekend of lectures, workshops and demonstrations on the themes of Number, Geometry, Music, Astronomy, Language and Movement.  All are welcome to come along for one or both days.  This is a wonderful opportunity, not only to learn from experts in their field but also to experience the spiritual impulse of Pythagorean and Platonic teachings that created The Great School of Chartres, which is again vitally relevant today.
You can choose from a rich variety of talks and workshops.  Explore the emblem of the Rose, the Venus pentagram and the octave in sound and colour.  Learn about the common source of Newton's and Ramanujan's genius, and the harmony of the heart, mind and will. Participate in practical Paneurythmy, Eurythmy and Cecchetti ballet sessions.  And more!  On Saturday evening, enter the spiritual world of music with Douglas Finch's virtuoso piano recital, Epiphanies.
A weekend of workshops, talks, music and performance. A collaboration of Mathematics & Mythos with the Scientific and Medical Network.
The Heart of the Rose contains the pentagram, the Rosy Cross and more …
Presenters include Edi Bilimoria, Gregers Brinch, Julie Cronshaw, Daniel Docherty, Sylvia Francke, Nicola Graves-Gregory, David Lorimer, John Martineau, Alex Murrell, Philip Kilner, Mary-Anne Paterson, Julia Soper, Malin Starrett and others.
For full details of the Programme and a Booking Form for those who prefer to send a cheque, see https://mathematicsandmythos.com/next-event/
The Saturday focus will be talks and demonstrations with Eurythmy and Paneurythmy optional participation during the lunch break. There will be an evening recital by internationally acclaimed pianist, Douglas Finch.
Sunday will include further talks together with activities and workshops – you are invited to email your preferences to [email protected]
Ticket price (individual or both days) includes teas and coffees and the concert on Saturday evening. The concert can also be booked separately. Lunch is available at the venue on both days and can be reserved at the same time as booking your ticket(s) for the event (or later up until 5th January).
The number of places available for the Sunday talks and workshops is limited by the size of the rooms, and will be allocated on a first come, first served basis. Early booking is advisable.
Disclaimer: the organisers reserve the right to make changes to the programme if necessary, at short notice.