The Power of the Sacred Feminine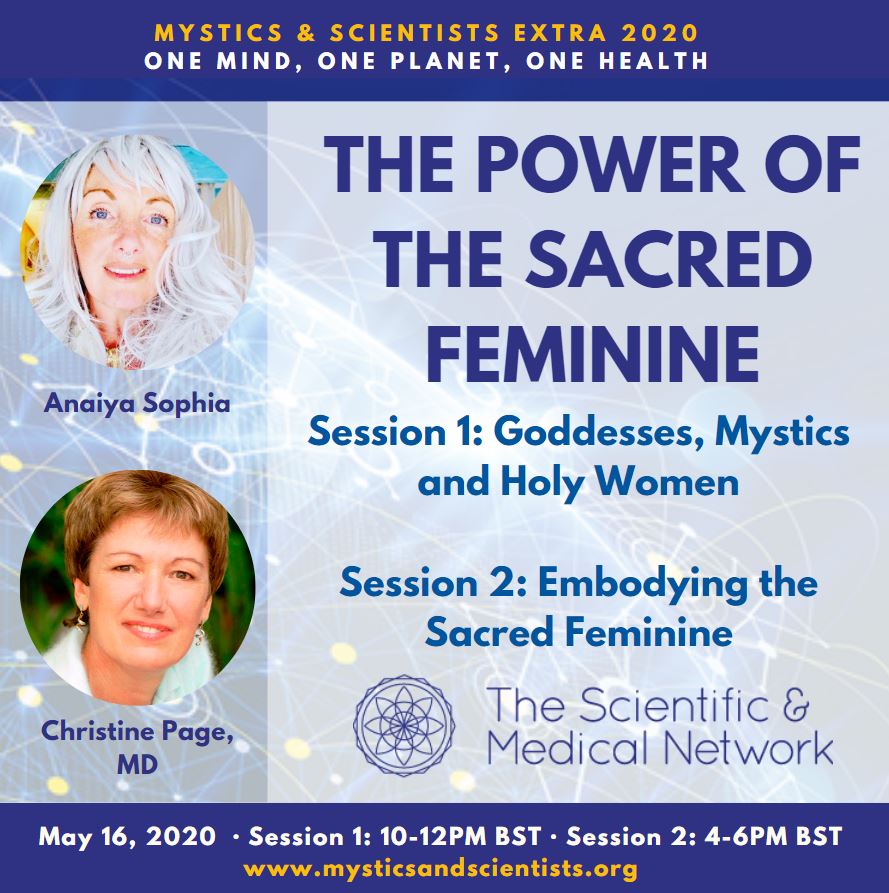 Join Anaiya Sophia and Christine Page for a one-day immersion in the power and mystery of feminine spirituality over two online sessions.⁣
Morning Session with Anaiya Sophia
The Sacred Feminine is so important for this time because of the comfort, consolation and courage that she brings.  She brings a clean and unassuming bravery that is needed to lead at this time, with both eyes and heart resting on the Natural World and all its inhabitants.
Anaiya will whisper the wisdom of the goddess as she nourishes our heart in this hour of refuge — where we can lay down our burdens, soothe our soul, and receive guidance for this time.
We'll discover our capacity to embrace darkness on the path to light, to stand in peaceful resistance and courage, and to be able to muster invincible power over evil. The Sacred Feminine has not only lived but thrived through times like this before and left breadcrumbs that help us find our way…
Evening Session with Christine page
In the midst of this period of global transformation, there's never been a more important time for the sacred feminine to emerge as we face a spiritual initiation, unlike anything we've experienced before. While our inner masculine likes to build and organise, our feminine revels in the opportunity to dive deeply into mystery, connect with eternal wisdom, surf the waves of change & birth a future worthy of the next seven generations.
Join me as together we courageously release our hold on patterns & beliefs that no longer serve us, root ourselves deeply into the fire of creation, realign to qualities of our lunar phase & fully embody our multi-dimensional self, thus stepping into full soul consciousness.
***RECORDING NOW AVAILABLE TO VIEW ONLINE*** 
Thank you to all those who purchased live tickets to this event. The event is now over but we have a HQ YouTube video that is now available to purchase access to, for anyone who missed this event. Chose a ticket level below and then we will send you a private link to view it online. (All live participants will automatically receive the recording link). 
⁣