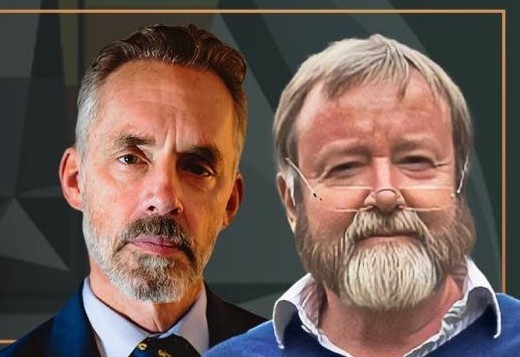 Dr Iain McGilchrist & Dr Jordan Peterson discuss a Brain Divided & The Matter with Things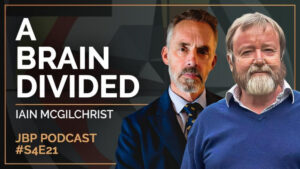 On Thursday 13th May Dr Iain McGilchrist and Dr Jordan Peterson talked for almost 2 hours on Peterson's podcast. Below is the link in case you missed this, and some of the theme areas they explored which include the discussion of Dr Iain McGilchrist's new book The Matter with Things, which will be published this October (more to follow on this).
Dr Peterson says "Dr. Iain McGilchrist and I discussed a variety of topics relating to the bifurcated brain, how we process reality as human beings, and the downfalls of the views that have shaped western culture according to McGilchrist."
In the beginning of their discussion, Jordan asks Iain to outline his concept of attention that he explores in his forthcoming book The Matter with Things, and they discuss how the world is created through attention. They look at the importance of looking at things as a whole instead of a part of the whole. Iain talks about paradoxes through the lens of his new book and examines them. Iain denotes the importance of understanding the significance of the left or right hemisphere when looking at ideas, structures, or projects that have contributed to society. They discuss important schools of thought that improve culture, Science, Reason, Intuition, and Imagination, unpacking the idea of ontological primacies related to consciousness. Further on in the conversation Iain and Jordan debate about the nature of implicit values and the idea of God, or what we use the word God to describe. They discuss the need for science to be embedded in a larger value structure and not simply rational and removed from right brain thinking and they re-visit the co-creation idea of the cosmos. Iain relates his closing argument that science needs to bring back imagination and intuition as important aspects of exploration beyond the strictly rational.
If you would like the opportunity to put a question to Dr McGilchrist or join the discussion forum in the Channel McGilchrist member's area about this conversation and others, you can find out more here.
Thank you for reading
The Team at Channel McGilchrist
[embedyt] https://www.youtube.com/watch?v=0Zld-MX11lA[/embedyt]