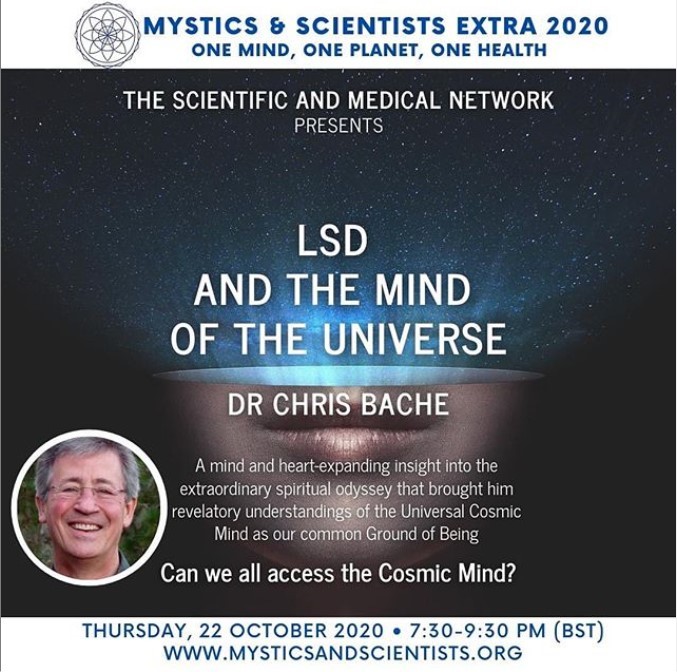 Chris Bache: LSD and the Mind of the Universe
Can we all access the Cosmic Mind? Join Chris Bache for mind- and heart-expanding insights into his extraordinary spiritual odyssey that brought him revelatory understandings and ecstatic experiences of the Universal Cosmic Mind as our common Ground of Being….you will need to fasten your seatbelts for this one! LSD and the Mind of the Universe tells the story of my 20-year journey with LSD – 73 high dose sessions conducted between 1979-1999 following Stanislav Grof's protocols. I spent years digesting these experiences, pondering their implications, and trying to integrate the truths I was shown. This journey became the philosophical adventure of a lifetime, but one I had to keep largely hidden from my university colleagues and society. Now that psychedelics are returning to legitimate scientific and academic discourse, I am sharing the story of my experiment in doing psychedelic philosophy – clarifying the protocol used and my evolving intentions in this work, describing the dimensions of consciousness that opened and the challenge of achieving sustained communion with these dimensions, and reporting my visionary experience of an emerging global crisis and humanity's extraordinary future.
Speaker
Chris Bache

professor emeritus in the Department of Philosophy and Religious Studies

Christopher M. Bache, Ph.D. is professor emeritus in the Department of Philosophy and Religious Studies at Youngstown State University where he taught for 33 years. He is also adjunct faculty at the California Institute of Integral Studies, Emeritus Fellow at the Institute of Noetic Sciences, and on the Advisory Council of Grof Legacy Training. Chris' passion has been the study of the philosophical implications of nonordinary states of consciousness, particularly psychedelic states. An award-winning teacher and international speaker, Chris has written four books: Lifecycles – a study of reincarnation in light of contemporary consciousness research; Dark Night, Early Dawn – a pioneering work in psychedelic philosophy and collective consciousness; The Living Classroom, an exploration of collective fields of consciousness in teaching; and LSD and the Mind of the Universe, the story of his 20-year journey with LSD.