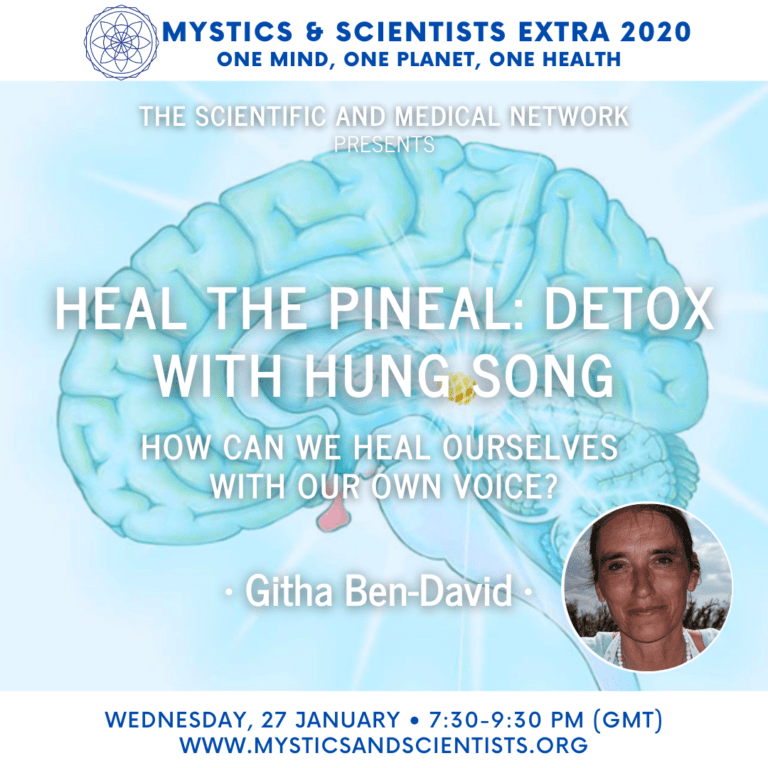 Githa Ben-David – Heal the Pineal: Detox with Hung Song
How can we heal ourselves with our own voice? 
Come and j

oin Danish vocal sound therapist and composer

 

Githa

 Ben-David

 for an experiential evening

 

to discover

 how you can 'decalcify' your Pineal Gland with your own voice.

 
The Pineal Gland is crucial for balancing our hormonal system,  optimising our body's natural immune and detox system, obtaining perfect sleep and much more.
It influences all aspects of life, because the Pineal Gland excretes melatonin, which governs the Circadian Rhythm of the body. 
This  vocal healing method is based on Githa's 33 years of experience working with "The Note from Heaven" and on  "Hung Song" – which is effectively a ground–breaking new, free medicine. 
Githa will also share some great news about a new international project combining Spirituality and Science for the benefit of Earth. 
Speaker
Githa Ben-David

Singer, Composer, Vocal sound therapist

Githa Ben-David was educated in the Royal Danish Academy of Music, and has studied Indian singing in Varanasi (6 years), regression therapy, healing and she is an internationally recognised pioneer in Vocal Sound Therapy. She is a singer, composer, and leader of International Education in Vocal Sound Therapy. Githa collaborates with international researchers, doctors and scientists around DNA, cymatics, frequencies and creation processes, electrical and chemical reactions, the fourth phase of water, and the importance of light. She is author of 9 books in Danish – while "The Ultimate Book on Vocal Sound Healing"  is a trilogy on Vocal sound work in English, published by O-Books in 2022. "Heal the Pineal" was published in Gilalai in 2020; "Help – A personal story of chronic heavy metal poisoning and how to overcome it" Gilalai, February 2023; "Sarah's Song", (novel) Gilalai April 2023.  She is a composer/musician singer and has released eight albums – two of them with Lars Muhl.