Conscious Ageing and the Wisdom of Elders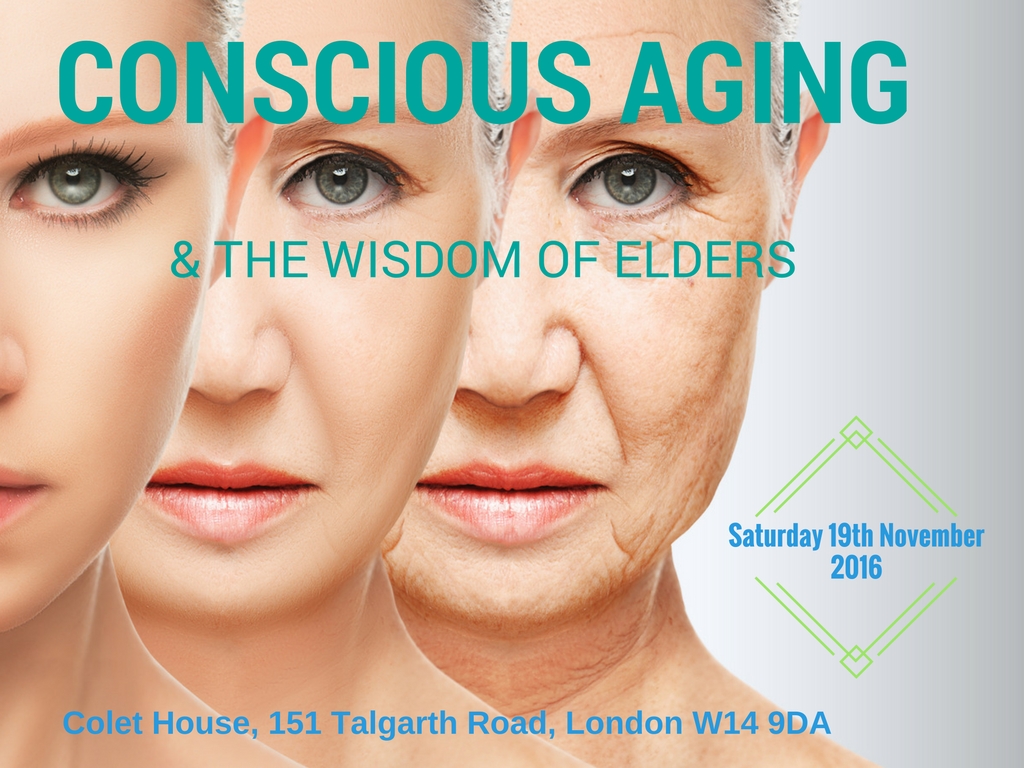 Organised by the Scientific and Medical Network and The Study Society
Saturday 19th November 2016
Colet House, 151 Talgarth Road, London W14 9DA
Chaired by David Lorimer
Ageing today has become an improvisational art form calling for imagination and willingness to learn. – Mary Catherine Bateson
There is a big difference between simply becoming old and aging consciously – ageing with intent. This interactive day event will provide a space to reflect on what it means to become a conscious elder at a time when we can expect more years of what Mary Catherine Bateson calls 'Adulthood 2' characterised by 'active wisdom'. We may well undergo turning points in our sense of identity, relationships and generativity or contribution. Elders have a great deal to offer, perhaps from a wider and wiser viewpoint; and, as Jung maintained, we need to acquire a spiritual outlook on life in order finally to be able to affirm our lives, our transformation in death and the love we have shared with significant others. We invite you to come and share your own insights.
PROGRAMME
9:30 Registration
10:10 David Lorimer – Introduction
10:30 Dr Peter Fenwick – Old Age gives us Another Chance
11:00 Diana Clift – Adding Life to Years
11:30 Coffee
12:00 Maggie La Tourelle – Alzheimer's – A Vehicle for Gaining Insights into Conscious Dying, the End of Life and Beyond
12:30 Anne Geraghty – The Teachings of Death
1:00 Lunch – PLEASE BRING TO SHARE
2:30 Short presentations from the floor – see details below
3:45 Small group discussions and plenary feedback
5:00 Tea
PLENARY SPEAKERS
Diana Clift – I was originally trained as a neurochemist but have worked in many unrelated fields including for 15 years as an entertainer in care homes for the elderly. For the last ten years I have been a practising hypnotherapist, focusing on changing habits…my special interest is cultivating the habit of happiness. I've been a member of the SMN nearly 30 years and am a vice president.
Dr Peter Fenwick is Emeritus Consultant Neuropsychiatrist, Maudsley Hospital and Emeritus Senior Lecturer at the Institute of Psychiatry. His other appointments included Consultant Neurophysiologist at St. Thomas's, Westminster and Broadmoor Hospitals. For ten years he was a Trustee of the Prince of Wales Foundation for Integrated health. He is President of the Scientific and Medical Network and of the Horizon Foundation and is former Chair of the Board, The Study Society. He is the author, with his wife Elizabeth, of many books on consciousness and death, most recently The Art of Dying.
Anne Geraghty worked as a Clinical Psychologist with R D Laing, and as a psychotherapist, group facilitator and spiritual-therapist all over the world on the dynamics of love in families and relationships. After a lifetime exploring the mysteries of the human condition, her journey into death when her son died turned out to be one of the greatest teachings of her life. Death, the Last God is her latest book.
Maggie La Tourelle is a writer and holistic health care practitioner. She has worked in the field for over thirty years integrating psychotherapy, NLP, kinesiology and energy healing. Underpinning her work is consciousness and she brought this and her professional skills and experience to helping to support both her parents at the end of their lives.
David Lorimer is Programme Director of the Scientific and Medical Network, President of Wrekin Trust and Chief Consultant to Character Scotland. He is editor of Thinking Beyond the Brain, Science, Consciousness and Ultimate Reality and co-editor of A New Renaissance. He is author of Radical Prince – The Practical Vision of the Prince of Wales.
Conscious Ageing and the Wisdom of Elders – Short Presentations
Elizabeth Fenwick – The Best Things about Getting on a Bit
I will offer a few reflections on being past 80 – I was for many years a professional writer on health and family matters.  I worked as an agony aunt advising on sexual problems on radio and in Company Magazine  and was involved in sex education in two schools in London.  I am married to Peter Fenwick, and have for the last 20 year collaborated with him in his work on death and the dying process.
Chris Johnson – Conscious Ageing and Conscious Death
In the little read Early Sessions material dictated by the metaphysical character known as Seth (channelled by the author Jane Roberts), there is much wisdom to be gleaned on living life consciously  – at whatever stage of life we are in. This brief presentation is a glimpse into the lifelong relationship between your ego-self and your personality—two psychological constructs that Seth categorically states are not the same "thing." This is a crucial appreciation that underpins any quest to understand physical death and the notion of after life. I will offer a smidgeon of Sethian insight on how conscious ageing over the entire lifetime can prepare us for a conscious death—or as Seth calls it, our " period of transition. "
Beata Bishop – Past Ninety It's a Different Trip
These days it's commonplace to live into the Eighties, which for most of us has become a bearable decade, sometimes – optimistically – called today's Sixties. Reaching ninety shatters that pretence. Having been my own DIY gerontologist for a while, past that birthday I had to get serious and summarise the ultimate lessons of my life's journey, keeping only the truly essential ones.
I have found only two. One is to disidentify totally from my body, which had been my vehicle since birth, but has now become an invalid friend whom the rest of me, my non-physical essential self, has to carry and cope with. The other is to enjoy every new day but be ready to die, with acceptance and deep gratitude. Having had the great gift of an out-of-body experience in my youth, I look forward to repeating it.
Sue Bayliss – The Hero's Journey, Pathway to Wisdom
The Second Half of Life seen through the filter of the Hero's Journey. How can an understanding of Joseph Campbell's Hero's Journey help us to identify which stage we are at on our own journeys and help us to be clear what our life purpose is at this time? Are we in the resolution or homecoming phases or is a new calling leading us on a new journey? I will also draw on Richard Rohr's ideas in his book: Falling Upward.
Paul Kieniewicz – Psychological Time — Could you live forever?
One problem with aging as I see it, is psychological time — what our experiences and traumas do to us, and how they condition our minds. It's a topic that Krishnamurti eloquently talked about. Can we live so that time doesn't touch our minds?
Zelda Hall – The Crone and Conscious Evolution – the gift of older women for a world in crisis
The Dalai Lama has said that Western women would rescue the world. This caused quite flurry when he said it and his statement ricocheted round the world. Part of the reason that he may have made it was that he was surrounded at the time by some very impressive women. There was Mary Robinson, most beloved of all Irish presidents and a tireless human rights activist. Susan Davis whose humanitarian work has impacted the lives of millions in Haiti, Bangladesh, Afghanistan and several African countries. And Karen Armstrong.
Important too is that these women are all in the 'third phase' of life. They are 'crones'. In this phase of life a woman's concerns often go beyond her immediate family to the greater community and the wellbeing of the planet. And as Jean Shinoda Bolan puts it, "Women who reach the enough is enough stage and have wisdom, compassion and humour are formidable forces for change."
The path which a woman will have walked to reach this stage is in a world where old age is seldom valued and old women even less so.
What are the specific gifts of the crone for a world in crisis?